Course details
【Steak Fluency ★ Amebi Recovery】 Raw, Corona, Budweiser, All 140 cocktails with unlimited drinks 4000 yen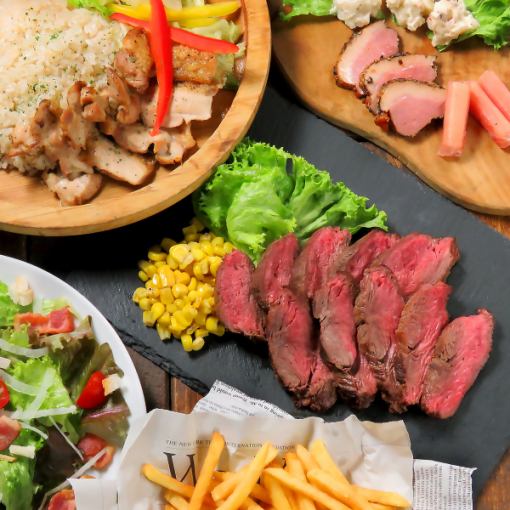 By using a coupon3500 yen
Tax inclusive of free drinks / coupon usage price
All-you-can-drink available

American beer 【Budweiser】, Corona, Sapporo Classic, Sangria, Mojito, Sparring Wine, etc. All you can drink is over 140 kinds of full cocktail! Orthodox cocktails and whiskey are available in a wide range! Early group using Forgotten Annual Meeting Japanese sake gift by reservation!?
Available days for reservation

Monday - Sunday - Public holidays - Holidays
Popular No.1 course! One who is lost for the time being Colle! I pack the popular menu of Amebire, a lineup of conviction with texture and volume sense also Road american snack, our steak boasted steak and chicken over rice (chicken rice) all 9 It is goods.Of course you can drink all-you-can-eat for 2 hours! Corona, Budweiser, draft beer, sangria, mojito, sparring wine and cocktails are more than 140 kinds!
Course menu
◆ Appetizers of three kinds (Assortment changes according to the day.)
Example) raw ham, duck pastastra, potato salad, cheese stick, garlic toast etc etc ..
◆ Caesar salad with seasonal vegetables
Homemade Caesar dressing is recommended!
◆ Roadside American snacks 2 kinds
Assortment of snacks! Assorted potatoes and spins of heaping!
Exquisite beef steak
Offer fresh meat that entered that day!
◆ Specialty Chicken Over Rice
Grocery rice, plenty of lettuce, plenty of chicken sauce and yoghurt sauce on amebire specialty ◎
◆ ice cream at the end
After eating gutsuri ice cubs with ice
[Introducing more great plans and benefits!]
◇ [Anniversary and celebration] with 1 message Desert plate & Fireworks · Lighting · Surprise production with music
(Please tell the staff along with the message contents at the time of reservation)
All-you-can-drink menu
·beer
· 【Corona】, 【Budweiser】, Sapporo Classic, Shandigaf, Red Eye, White Eye, Black Eye
·sangria
· Sangria, Sangria Orange, Sangria Grapefruit, Sangria Soda, Sangria Cork, Sangria Mellon, Sangria Ginger, Sangria Tonic etc.
·Mojito
· Mojito, Mojito Jasmine, Peach Mojito, Lemon Mojito, Lime Mojito, Orange Mojito, Grapefruit Mojito, Cassis Mojito, Lychee Mojito, Campari Mojito, Amaret Mojito, Banana Mojito, Strawberry Mojito, Coconut Mojito, Mojito Cork, Mojito Ginger etc ..
· Wine · Sparkling
· Red, White, Sparkling Wine, Keel, Kitty, Operator, Cardinal, Carimocho, Splitzer, Wine Tonic, Mimosa, White Mimosa, Kiel Royale, Lyche Imperial etc ..
·Cocktail
· Peach soda, peach oolong, fuzzy navel, peachmoni, cassis soda, cassis oolong, cassis orange, cassis grapefruit, campari soda, campari orange, campari grapefruit etc.
·Cocktail
· Vodka Tonic, Moscow Türk, Bulldog, Screwdriver, Blatti Mary, Gin Tonic, Jim Buck, Orange Blossom, Negrooni, Tequila Sunrise, Teconic, Oolong Hi, Green Tea High, Jasmine High, Lemon Sour, Lime Sour, High Bowl, Rum Coke etc. .
·Cocktail
· Malibu coke, Malibu pine, Amaret ginger, Amaret milk, Malibu milk, Peach milk, Cassis milk, Matcha milk, Strawberry milk, Banana milk, Baileys milk, Kalua milk etc ..
·Soft drink
· Coca Cola, Jinjaire, Melon Soda, Green Tea, Oolong Tea, Jasmine Tea, Orange, Grapefruit, Shirley Temple
2018/11/02 update