Course details
【Super profit! Second session course】 Raw, Corona, Budweiser, Cocktail All 140 kinds with all you can drink All 8 items 2800 yen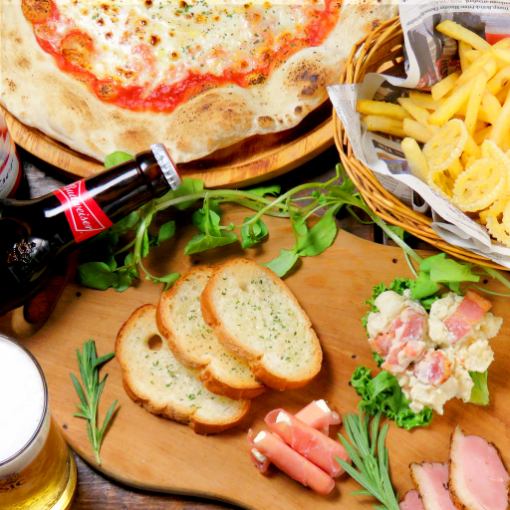 By using a coupon2500 Yen
Tax inclusive of free drinks / coupon usage price
All-you-can-drink available

American beer 【Budweiser】, Corona, Sapporo Classic and sangria, mojito, sparring wine etc. All you can drink is over 140 kinds of full of cocktails! Orthodox cocktails and whiskey are available in wide range!
Available days for reservation

Monday - Sunday - Public holidays - Holidays
A course that can be used after 21 o'clock! It's perfect for those who want to drink, but they are full of stomach, but a variety of minds are worrisome !, The best snacks course for the second party is luxury snacks 5 hors d'oeuvres and snacks 2 Goods! Little by little, palpable and full of sense of value ★ Kimari at the end with pizza! Of course you can drink 2 hours at any time! Corona, Budweiser, draft beer, sparring wine, whiskey and cocktails are enriched with over 140 species!
Course menu
◆ Sweet potato hors d'oeuvre 5 kinds
(Raw ham, cheese stick, potato salad etc, content varies from day to day.)
◆ Assorted American Chips 2 varieties
(French fries and onion fries etc, contents vary depending on the day.)
◆ Chef Recommended PIZZA
If you have a celebration such as a birthday, we will prepare a dessert plate for free so please tell us!
(When booking from the net, please write your name and message in the remarks column on the plate.)
All-you-can-drink menu
·beer
· 【Corona】, 【Budweiser】, Sapporo Classic, Shandigaf, Red Eye, White Eye, Black Eye
·sangria
· Sangria, Sangria Orange, Sangria Grapefruit, Sangria Soda, Sangria Cork, Sangria Mellon, Sangria Ginger, Sangria Tonic etc.
·Mojito
· Mojito, Mojito Jasmine, Peach Mojito, Lemon Mojito, Lime Mojito, Orange Mojito, Grapefruit Mojito, Cassis Mojito, Lychee Mojito, Campari Mojito, Amaret Mojito, Banana Mojito, Strawberry Mojito, Coconut Mojito, Mojito Cork, Mojito Ginger etc ..
· Wine · Sparkling
· Red, White, Sparkling Wine, Keel, Kitty, Operator, Cardinal, Carimocho, Splitzer, Wine Tonic, Mimosa, White Mimosa, Kiel Royale, Lyche Imperial etc ..
·Cocktail
· Peach soda, peach oolong, fuzzy navel, peachmoni, cassis soda, cassis oolong, cassis orange, cassis grapefruit, campari soda, campari orange, campari grapefruit etc.
·Cocktail
· Vodka Tonic, Moscow Türk, Bulldog, Screwdriver, Blatti Mary, Gin Tonic, Jim Buck, Orange Blossom, Negrooni, Tequila Sunrise, Teconic, Oolong Hi, Green Tea High, Jasmine High, Lemon Sour, Lime Sour, High Bowl, Rum Coke etc. .
·Cocktail
· Malibu coke, Malibu pine, Amaret ginger, Amaret milk, Malibu milk, Peach milk, Cassis milk, Matcha milk, Strawberry milk, Banana milk, Baileys milk, Kalua milk etc ..
·Soft drink
· Coca Cola, Jinjaire, Melon Soda, Green Tea, Oolong Tea, Jasmine Tea, Orange, Grapefruit, Shirley Temple
2018/11/02 update